Tuning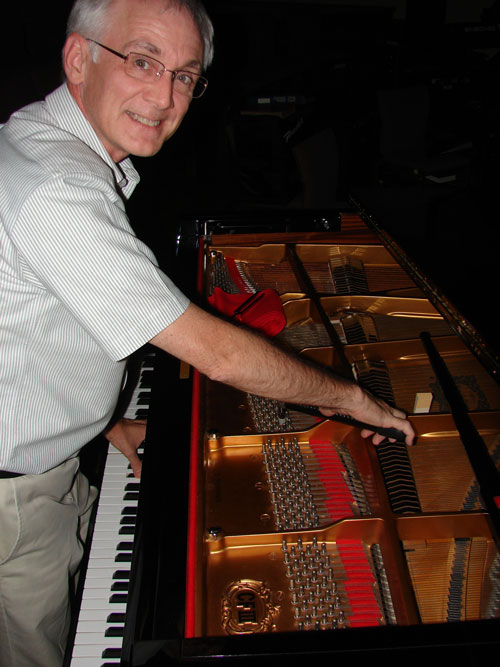 Book Your Tuning Appointment Today!
$ 140.00 Basic Tune
$ 60.00 per Pitch Raise Pass
Repeat Biz Customer Discount
See Specifics Below & Card Charges
Closed Sundays & Mondays


Russ honors Georgia's Hands Free Driving Law and does not to take calls when driving, and he tries not to take calls while in the customer's home tuning, but he's still easy to reach.

Email - Text - Call - Voice Mail


!! Now Booking May 2023 !!

Texting & Email are the most reliable during peak busy season!
Area of service –
As a resident of Gwinnett County, Russell's primary area of service is focused on Atlanta, and the North Metro surrounding areas. See the Areas of Service Tab for your county.


How much does it cost to tune a piano? –
Effective August 1, 2021, the 2017 through 2020 price structure is being retired and replaced with the data below to coincide with the beginning of the new school year. I plan on applying this price structure from 2021 through 2023. The next planned price adjustment will occur on January 2, 2024 and my current plan is to use that structure from 2024 through 2027.

(2021 - 2023) In general, I base my price structure on the amount of time that will likely be spent in the home or job site. When I make a tuning visit, I may need to tune your piano 1 time, 2 times or 3 times during that SAME visit depending upon the condition of the piano. Your tuning cost may be $140.00, or $200.00, or $260.00 for that day's tuning service. And Repeat Biz Customers will be grand fathered in with a thank you discount. Here is how it breaks down for payments by either cash, check, or Zelle:
· T1 - Basic Tuning Service (per piano) = $ 140.00
· T2 - A Typical 1st Tuning w/ a Basic Pitch Raise ($60.00) + Basic Tune ($140.00) = $ 200.00
· T3 - Extreme Pitch Raise ($120.00) + Basic Tuning ($140.00) = $ 260.00
· RB - Repeat Biz Customer Discount on a T1 Tuning DEDUCT = (- $ 15.00)
· DD - D.O.A. - Dead On Arrival Pianos & Consultation = $ 100.00
This does not mean that I will need to come to your home multiple times. The prices above are for a one-time only tuning visit. If the following information feels confusing, please feel free to call or text me at (770) 570-0356. Your input will help me refine how to rewrite this pricing information. I will advise you when you should expect to retune your piano - 6 months or 1 year etc.

For Credit Card & Debit Card Purchases, I use Square.com to process the payment. Below are the upcharges required to cover the swipe charges (Visa, MasterCard, American Express, & Discover):
· T1 - Basic Tuning Service (per piano) ADD $ 5.00
· T2 - Basic Pitch Raise + Basic Tune ADD $ 7.00
· T3 - Extreme Pitch Raise + Basic Tuning ADD $ 9.00
· DD - D.O.A. - Dead On Arrival Pianos ADD $ 5.00
· Add 3.5% for additional services.

Service Descriptions -

How do piano techs measure a piano? I use an app on my iPad called Tune Lab to get an idea of the present pitch position of a piano prior to tuning. You may hear a piano technician use the words "Your piano is 10 cents sharp" or "Your piano is 25 cents flat." But what does that mean? In our industry, a single piano key is assigned the value of 100 cents. Just like a single Dollar has the corresponding value of 100 cents. For example, most pianos will move around 8 cents if tuned once per year. And I have some pianos in churches that jump 25 cents between seasons. And a piano that has not been tuned in 10 to 30 years will easily be out of tune between 50 cents to 100 cents flat on average. When we see a piano that is 100 cents flat, we use the expression "it is one full key flat." If you have a guitar tuner, it may give you an idea what the pitch position of the piano is. Chose a note on the piano that corresponds to a note played on the guitar. What does it read? Customers are welcome to observe while I take the measurements.

All pianos are created differently, and each has its own individual needs. For pianos that are regularly maintained, an owner can anticipate a standard, one-pass finish tuning visit that will require 1.5 hours. In contrast, for instruments that do not receive annual or bi-annual tuning visits, an owner may need to budget additional time and money for multiple tunings to get reliable service. Prior to tuning, your piano will be measured with a computer to determine its present pitch position.
· T1 Piano - Basic Tuning Service Visit is normal for the Regularly Maintained Piano. These are pianos tuned every 6 to 12 months and will apply to most repeat business tuned within 24 months. (1 tuning @ 1hr 15min to 1hr 30min = $140.00 or Repeat Biz Customer @ $140.00 - $15.00 = $125.00). A typical T1 Piano measures between 0 cents to 10 cents flat/sharp. The T1 Piano accounts for about 55% - 60% of the pianos that I visit.
· T2 Piano - A Typical 1st Tuning Service Visit (1 quick pitch raise tuning followed by 1 basic finish tuning) applies to the Moderately Maintained Piano. For pianos that have been recently moved, or they have not been tuned in the past 3 to 8 years, you will need to budget this category for the additional time and work involved. If you have waited 4 to 5 years to tune, it is like starting all over again; so, budget the additional time and money just in case. ALL tuning pins (approx. 220 strings) must be turned 1 time to pressurize the sound board prior to the Basic Tuning/Finish Tuning. (2 tunings @ 1hr 45min to 2 Hours = $140.00 + $60.00 = $200.00 and DEDUCT $15.00 for Repeat Biz Customers = $185.00) A typical T2 Piano measures between 12 cents to 70 cents flat/sharp. The T2 Pianos are about 25% - 30% of the pianos that I visit.
· T3 Piano - The Extreme Pitch Raise Piano (2 quick pitch raise tunings followed by 1 basic finish tuning) applies to the Ignored Piano - these are pianos that have been completely ignored for a long, long time, and are very flat (i.e. - 75 cents flat overall to a full semitone flat and more), and this level of service may apply to older, short spinet models as well. If a piano has not been tuned in 10 to 30 years, then it has missed 10 to 30 tunings. It will require extra work and time to be brought up to A440, and the Extreme Pitch Raise Piano cost will be applied. Precautions must be made with spinets as broken string repairs can be costly to owners. And older pianos do not have adequate stretch to allow for "over pull" techniques. Hence, IF the health of the piano will allow it to be raised to A440, ALL tuning (approx. 220 strings x 2 passes) pins will be turned 2 times prior to the Basic Tuning/Finish Tuning. It is the equivalent of 3 tunings in one visit. (3 tunings @ 2hr 30min = $140.00 + [2 x $60.00] = $ 260.00) The T3 Pianos are 10% and less of the pianos that I normally visit.


What is not included in the Tuning Service fees? -

The Tuning Fee only applies to the tuning process and product. Repairs for sticky keys, broken strings, vacuuming, cleaning, applying lubrication to sluggish action parts etc. will be assessed separately, and are costs beyond the tuning service. As a rule of thumb, for repairs that can be done in 10 minutes or less during a tuning visit, no additional charges will be applied to the invoice. When repairs are performed during the tuning visit, the current hourly rate stated on the Repairs tab will be applied to cover the cost of the additional services. Please review Repairs for more information.


When will we need to tune again? -

I have some customers who are very, very pitch sensitive artists, and they may book as many as four piano tunings per year to cover their needs. I have some pianos that do a serious jump in pitch as the heaters and air conditioners adapt the spaces to the relative humidity levels. Those pianos I usually suggest tuning after July 4th as that marks the return of summer levels of humidity. And those pianos change once again when the heaters turn on and dry out the air. The start of winter can vary. In my younger years, it started in November, but now winters may not really bite until February. So, in some cases, biannual tunings are quite routine.

As a general rule of thumb, I tell customers that if the piano bugs you in 6 months, reach out to schedule a tuning visit. Otherwise, plan on tuning your piano at least once per year as long as the piano is being used. Try NOT to wait past 24 months to tune again.

And finally, I do have customers who wait 3 to 5 years between tunings. When resources are tight, or the piano has been sitting unused for a long time, then I totally get it. But be aware!! I may have to treat the piano as a T2 Typical 1st Tuning Visit.


Appointment Times -

Please see my Business Hours tab for specifics. I am a full-time piano technician. I am open to schedule tuning and other services to fit your schedule. I like to keep Sundays open to nurture my own spirit and I usually close on Mondays to do all the catch-up work around the house, but I will consider special requests and needs.


Price Changes and Price Structures -

Over the years, I have tried to adjust prices every 3 years. The current price structure will be in place from August 2021 until July 2024. I may modify them to adjust to market forces or changes in the availability of my time.


Owner's Risks (Good News and Bad News) -

As piano owners, there are two risks that are always present. Metal either stretches or it breaks.
· String Breakage - With instruments that are not tuned regularly, or they have acquired rust, there is the ever-present risk of string breakage. All products have a life cycle. Whether clarinet reeds, trumpet valves, drumsticks, or music wire, man-made objects eventually go into a state of decay. Piano wire basically has an 8-year life span. After that, metal fatigue is a reality. All precautions will be taken to avoid breakage (i.e., the application of lubrication at friction points).
· Plate Breakage - The second concern that all piano owners face is plate breakage. Since the late 1800s pianos have been manufactured with cast iron plates that provide the piano with sufficient structure to resist the force of highly tensioned piano wire. Despite refined quality controls, occasionally a plate is installed that either has an inappropriate mix of ore or it was not properly cooled once it was poured into the mold. Hence, weak points were inadvertently created during the manufacturing process. One of Russell's acquaintances has been tuning for more than 40 years. During the span of his career, only one plate has broken. Though a rare occurrence, it can happen.

So, there is good news and bad news about the above. The good news for broken strings, most of those situations can be repaired. Unfortunately, the bad news for plate breakage is that the piano is done if/when the plate has had enough. If the plate breaks, the piano may be a great piece of furniture, a perfect place for potted plants, or it can be converted into an ingenious media center.

The Piano Technician's Disclaimer -
Piano technicians DO NOT break strings and plates. Strings and plates break.

Thanks for visiting!

"Mr. Rusty"